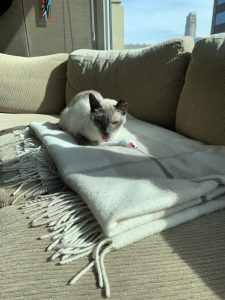 How Gene Therapy Works!
The picture of the King Charles Cavalier(not the cat above!) caught my attention recently in an article in the Wall Street Journal about gene therapy, and how much it has advanced in the treatment of aging. It began with mice and now they are taking a new approach to using gene therapy to treat dogs. Back to the King Charles Spaniel. Apparently, this breed has a problem with heart disease and mitral valve prolapse as they age.  Tufts Vet School is piloting a study to use gene therapy in this breed to treat their heart disease. It's been successful in mice and they are hoping for good results in dogs. IF it works in dogs we humans may reap the riches of this new therapy.  The difference in recent research is that in mice they have targeted more than one defect, instead of focusing on just one defect.  The therapy works by injecting mice with the DNA that creates an extra copy of a healthy gene. This allows for more healthy material to be spread over cells associated with aging problems.  The injection of DNA to cells produces a protein that potentially can stop the progression of mitral heart prolapse by preventing the build up of scar tissue in the heart. So far… the company has tested this on 10 beagles and there have been no bad side effects. The target age for using this gene therapy will be mainly middle aged cavaliers.
A Dogged Approach
The bio tech company behind this study is called Rejuvenate Bio, and their goal is to test a variety of aging ailments in dogs.  Success in dogs will breed the same treatment in humans! The pricing of dog gene therapy is expected to range from about $500 – $8,000.
Scout Bio, based in Philadelphia is another company making strides in gene therapy for dogs and treating anemia in cats and osteoarthritis in cats and dogs!  Showing success in cats and dogs will make it easier to raise money to extrapolate the findings to humans!
It's exciting to hear about the new ways of treating the aging process. I love King Charles Cavalier's and am happy they may be able to live longer and healthier lives!