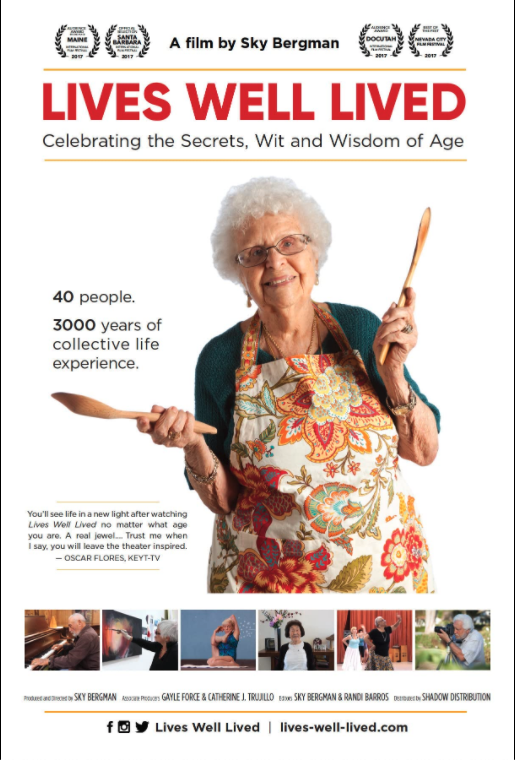 This show's episode is with Sky Bergman, an award-winning photographer who is getting ready to take her talents to new heights! Sky's documentary called, Lives Well Lived: Celebrating the Secrets, Wit and Wisdom of Old Age, will be seen on PBS.
It's a fantastic documentary that covers Sky's four years of interviewing 40 people over the age of 90. She describes it as "40 People, 3000 Years of Collective Life Experience"
Sky's career has encompassed many other accomplishments. These include having her Fine Art work included in permanent collections at The LA County Museum of Art, Brooklyn Museum, Santa Barbara Museum of Art, and the Bibliotheque National de France.
Her commercial work has appeared on book covers for Random House and Farrar, Strauss & Giroux, Inc. Magazine that use her work include Smithsonian, Readers Digest and Archaeology Odyssey.
Currently, Sky is working as a Professor of Photography and Video at Cal Poly State University in San Luis Obispo, California.
The episode highlights how Sky became inspired for her work, how she went about doing it, and what the future looks like after completing the documentary.
Her next project is called The Intergenerational Project and she speaks a bit about how her students have created bonds with older generations and come away with a new sense of what life can be like from different perspectives.
View us on our YouTube Channel, Growing Older With Gusto, share with your friends, and Subscribe!