Another Week in the Summer of Pandemic
Happy Tuesday fellow super-agers!  Its nice to stay connected in these difficult times by storing up our resilience by continually learning from those older people who are showing us how to do it! I hope this finds you, and your family connecting in ways that are meaningful to you.
Today, I write about an icon who keeps giving us a great way to move forward on life — Jane Fonda.  I have had the good luck to have met her in person a couple of times and work out with her.  She is down to earth, friendly, and an authentic person.  This morning I was reading my Katie Couric Daily Newsletter and there was a write up on Fonda's current lifestyle.
                                                    TikTok for Jane Fonda
Fonda has joined up with the TIkTok platform to share her current fitness routine at age 80+!  She claims movement is her mantra and it's her secret sauce for what  keeps her going.  She reveals that in her 80's she is being more careful in her workout routines.  Her osteoarthritis prevents her from lifting heavy weights, but she gets around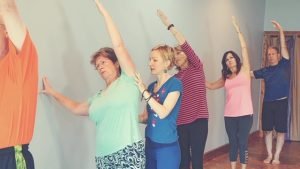 by substituting resistance bands to work out her muscles.
I found it amusing that she tells us that she is using CBD and hemp products to relieve and ease any body soreness. My husband and I have both tried CDB creams and Hemp for back and rotator cuff issues.  IT WORKS!  A word of caution: the hemp has an awful odor!
The 2 S's that Fonda claims are super important are stretching and sleeping well.  She stretches every day and gets at least 8 hours of sleep. I know from my own experience that stretching is crucial to prevent muscle spasms and getting a good nights sleep is like finding gold!
She also eats a healthful diet daily of mainly fruits and vegetables and has cut back on meat and fish.
Fonda in her own words feels that self-care is the best thing you can do to ensure you will grow older with gusto.
What a great example!